Turtle Tots are a baby and preschool swimming lesson franchise with over 50 franchisees across the UK and Ireland. The network has won multiple awards over the years, including a few Trustist awards, and they are extremely passionate about providing a safe and happy environment during their lessons.
Initial Pilot – 5 Franchisees – 23% Increase
The Turtle Tots network began working with Trustist in early 2019, starting with just a small pilot group of franchisees who were using Trustist to aggregate their reviews from all review sources. The resulting stars in Google organic search results helped those individual franchisees to achieve an increase in web traffic of around 23% on their individual location pages within the first few months!
This data was taken from comparing February – May 2018 with the same time period in 2019 to see how much the traffic had changed.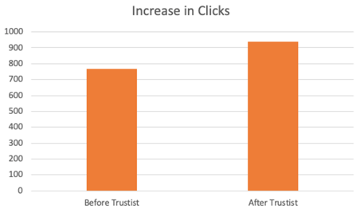 The franchisees involved in the pilot were also able to collect over 200 reviews in that time, which were then displayed on their website and helped them to show off their amazing customer service to prospective customers! Having the reviews displayed on the website ensures that any customers who land on the page after seeing the stars in natural search results are then further encouraged to work with the business based on their incredible reviews.
Partial Participation – 15 Franchisees – 31% Increase
The pilot was so successful that immediately after the data was shared, additional franchisees then began to sign up for their own Trustist accounts.
At the end of 2019, there were 15 franchisees using Trustist on their location specific pages. Whilst their individual location pages continued to see amazing increases in traffic (even 72% in some cases), what was interesting to see was the overall increase the entire website had gained because of the stars in Google organic search results for some of the location pages.
When comparing the entire month of November in 2018 vs 2019, we found that the entire website had seen an overall increase in clicks from Google of 31% and this was even before the entire network signed up!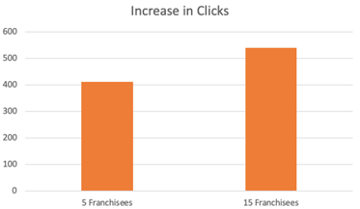 COVID-19 Pandemic and COVID Secure Reviews
When 2020 arrived, the Turtle Tots network was thrown into incredibly difficult circumstances because of the COVID-19 pandemic. They were forced to close completely for prolonged periods of time without any information as to when they would be able to start lessons back up.
The franchisees who had been using Trustist who chose to continue with their accounts throughout the pandemic, and with the focussed time, were able collect reviews from historical clients, meaning they were able to reinforce their online reputation and keep their stars in Google organic search results. This meant that as restrictions began to ease, they were in a great position to attract new customers to the website when it was time to get lessons back up and running.
Something the franchisees were also able to do as restrictions began to ease was the collection of COVID secure reviews. These reviews have become invaluable to many businesses as they include comments about the COVID safety measures put in place which can be a huge encouragement for customers who are apprehensive about returning to lessons!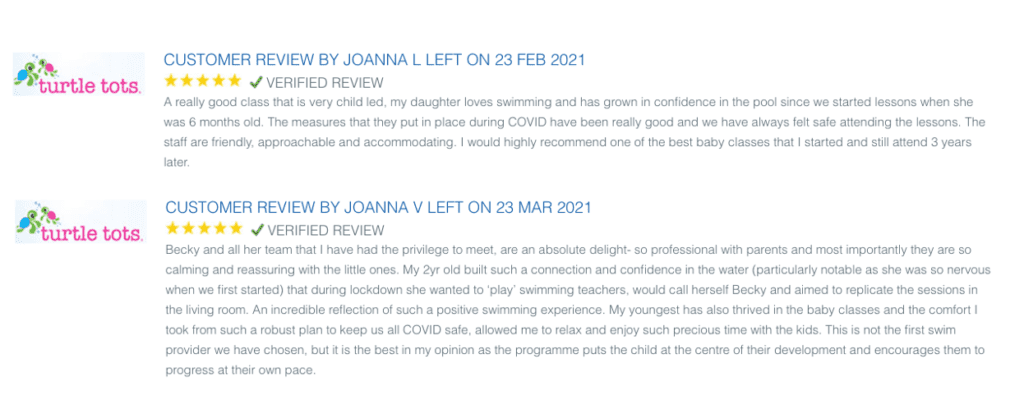 Full Participation – All Franchisees – 1,305% Increase
As COVID-19 restrictions were eased, it became even more clear how beneficial reviews could be to businesses during such a strange time. This, combined with the information showing how having more franchisees with stars in their Google organic search results benefitted the entire business led to all franchisees coming on board with Trustist in early 2021.
Once all the pages of the website had stars appearing for them in Google organic search results, including the brand level pages which displayed the overall aggregation of reviews for all locations, it became clear that full coverage of stars in Google search results was the key to even bigger increases.
The below graph shows how much traffic the Turtle Tots website received in a 28-day period from April 2021 versus the same 28-day period in 2020. Whilst undoubtably impacted by COVID, this data displays the long-term benefits of having the Trustist widget across the entire website.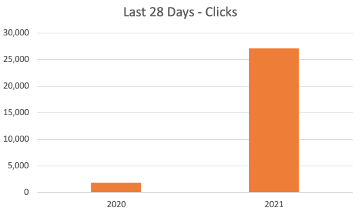 To further investigate how having all franchisees on board with Trustist impacted the site, we also compared the 3-months in which all franchisees were using Trustist with the 3-month period directly before that. This comparison allowed us to see that after the full set of Trustist widgets were added, the amount of clicks the Turtle Tots website received increased by 141%!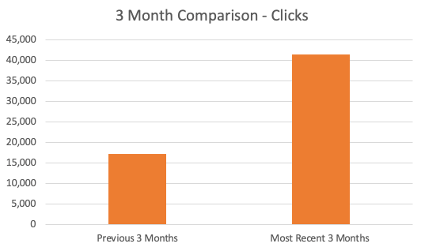 Here are some milestone statistics:
5 franchisees = 173 more clicks (4.6 per franchisee)
15 franchisees = 300 more clicks (20 per franchisee)
50 franchisees = 24,300 more clicks (486 per franchisee)
We would have expected, on a straight-line extrapolation, the clicks to increase from 34.6 to 1,730. However, the increase of 24,300 clicks is 1,305% more than the estimation and clearly demonstrates that when every franchisee participates it benefits everyone more including the franchisor!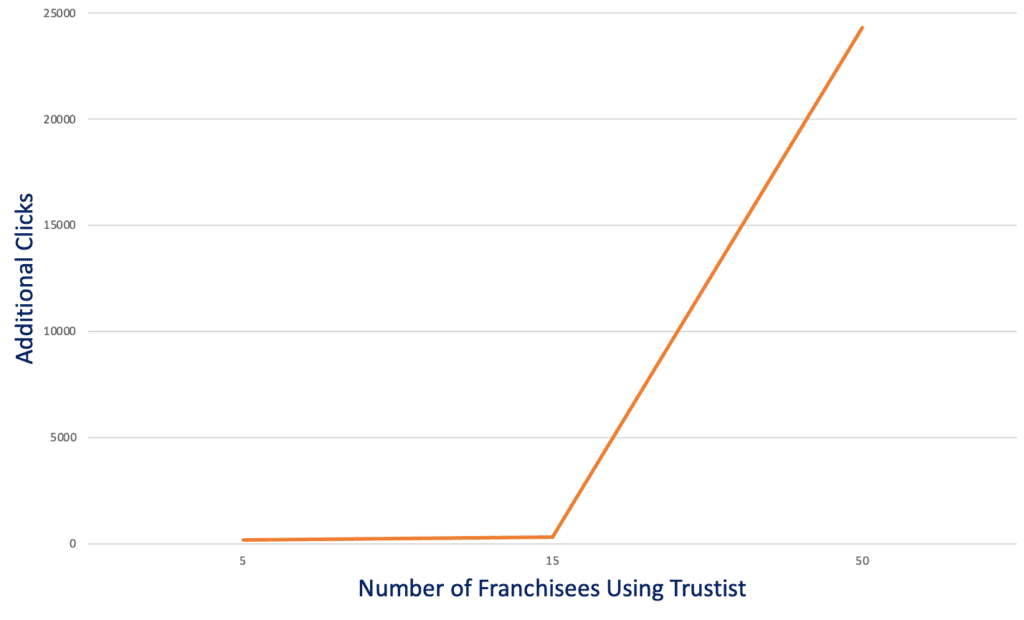 Caroline Sparks, Co-Founder of Turtle Tots said the following about using Trustist:
"We've been working with Trustist for about two years now, and probably one of the best things about the platform itself is how easy it is to use for both ourselves and our franchisees. It also really helps with SEO because the reviews help us to stand out in the Google organic rankings. When potential customers are looking for baby and toddler swimming lessons, they can see that existing customers rate us highly."
You can also hear everything about Turtle Tots' experience of using Trustist in the video below!