Google trends is one of the most useful tools provided by Google, yet so many people don't know how to use it. It allows you to input one or more search terms, and it returns various data around those search terms including:
Interest over time
Interest by subregion
Related topics
Related queries
This data can then be used to decide which keywords you use to describe your business online, including your website and any other listings you may have.
How to Look up a Search Term on Google Trends
To look up a search term on Google Trends, first head to https://trends.google.com/trends/. Here you can see a few examples of what people have been searching for, as indicated by the 1 in the image below.
You can then enter your chosen search term into the field provided (2 on the image below) and look at specific data for your keywords.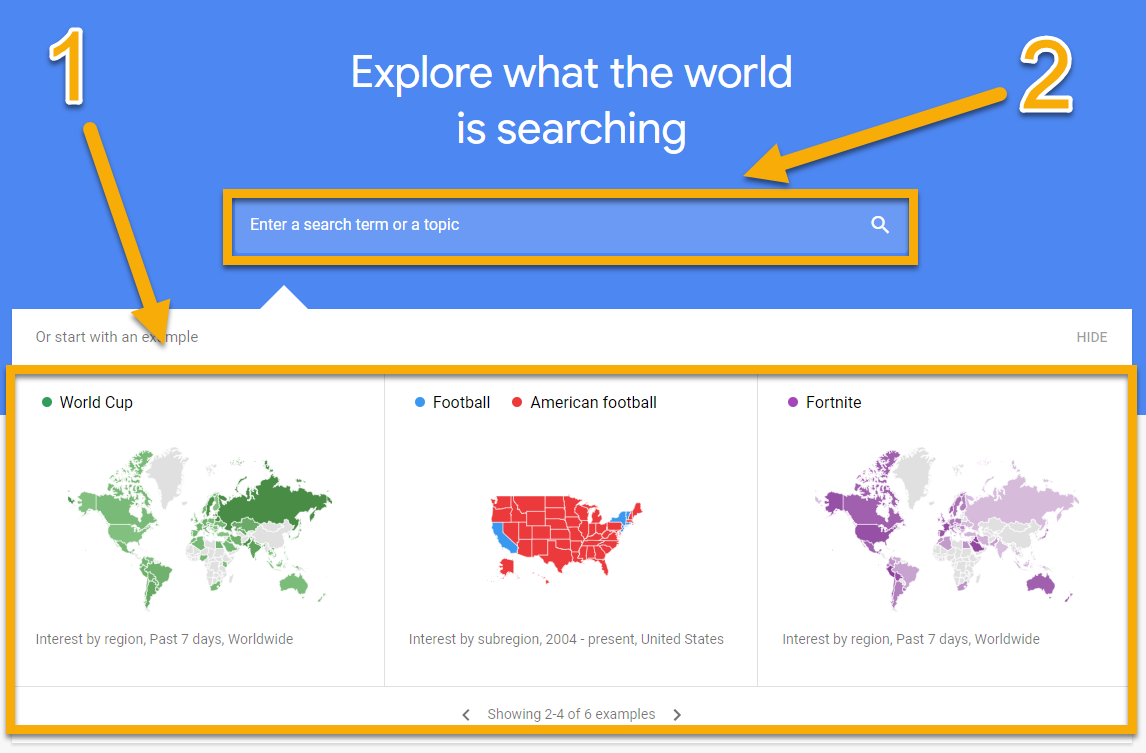 The dropdowns below your search terms can be used to change the area you are viewing data for, as well as the time period, category and type of search. Changing these settings allows you to customise the data you are seeing for your search term to ensure it is relevant to your business and your customers.
Next to your existing search term, there is also the option to 'Compare'. Clicking this will allow you to add extra search terms. This means you can compare similar search terms and see which are more popular in your target area and ensure you are using the most commonly searched ones on your online profiles/website.

Interest Over Time
This data is the most useful part of the report from Google Trends, as it is the most transparent to see which search term is the most popular – and therefore the better one to use for your business as it is more likely that your clients will search for it.
For example, if I was running a business that taught people how to swim, I would compare 'swimming lesson' with 'swimming class' to see which was used most. In this instance, we can see from the graph that 'swimming lesson' was searched for much more than 'swimming class' in the last 12 months.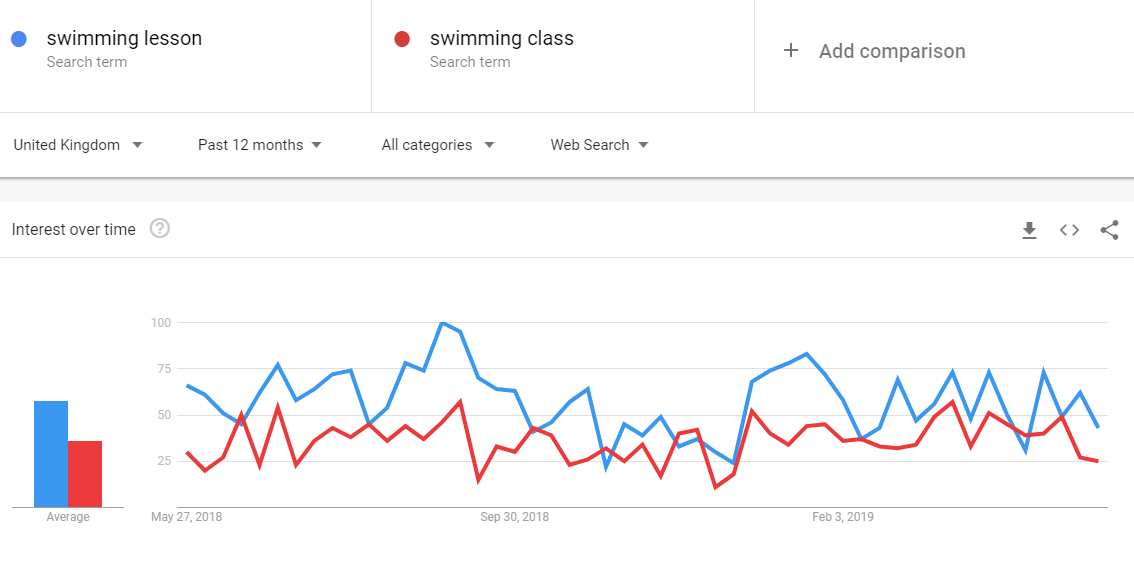 As a result of this data, I would be sure to use the term 'swimming lesson' rather than 'swimming class' when I am describing my business and its services.
Using the most commonly searched search term when describing your business and its services increases the chances of your website/online listings appearing in searches including that search term. An increase in the amount of times your website appears in search results usually leads to an increase in clicks, and in turn an increase in sales!
Interest by Subregion
You can also see the interest in your search term based on subregion. This data depends on the original region you selected when searching for your keyword, as if you are doing a worldwide search the data is likely to be more varied than if you are doing a search within the UK.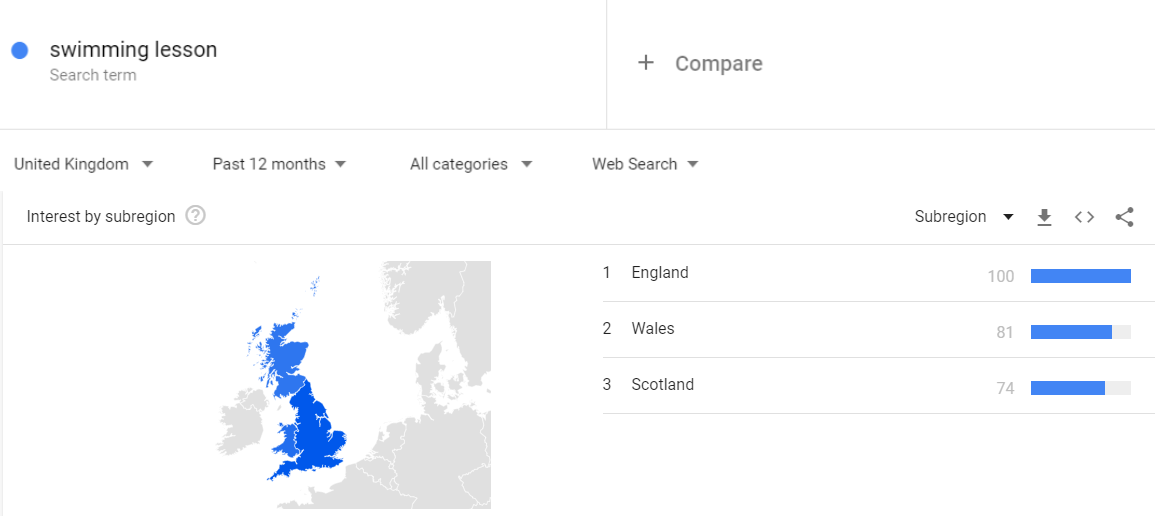 When comparing search terms, this data can help you to establish which keyword is used more in your target subregion:

If you are a local business serving a specific area, it is worth taking a look at which term is used more in that area as you know that data is based on real potential customers for your business.
Related Topics
Google Trends will then show you the topics people are search for that may be related to your search term. Clicking on any of these topics will then show you the search data for that topic.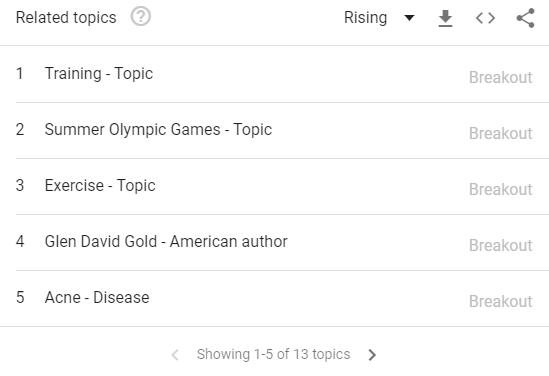 These topics can be helpful to see what general topics are being searched for that may also be relevant to your business, as they can also be used when describing your business online.
Related Queries
Finally, Google Trends shows you specific queries that have been searched for that may be relevant to your search term. This information can be really useful, as it may bring alternative search terms to your attention that may even be more popular and more relevant to your business.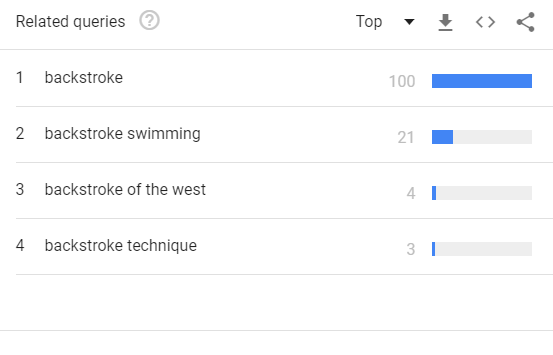 Summary of Google Trends Tips
Google Trends is one of the easiest Google tools to use, and one of the most useful when you know how to use it properly. To ensure you are getting the most out of it, it is advised to do the following:
Review a variety of search terms
Check both singular and plurals of your chosen search terms
Consider both the related topics and the related queries before settling on your chosen keyword
Once you have chosen a main keyword, try to ensure you are using it wherever your business has an online presence. This can include your website, Google My Business, social media and directory listings. Keeping these listings consistent will also help with your ranking in Google search results.
Don't limit the inclusion of keywords to just titles – ensure you are including them in the text and content on your website as much as possible too.