The questions that clients have for us are constantly changing and evolving alongside the platform. With this in mind, we wanted to answer a few of the most common questions that we receive in one post!
How does Trustist help me?
We use your existing and future reviews to get you stars in your organic Google search results! This helps to make your listings look more attractive than your competitors' search results. Search results with stars get more clicks which means more enquiries and more sales!
Can I use Trustist to collect new reviews?
With your Trustist account you get unique review links for each of your locations and Trustist branded QR codes to help you easily collect new reviews. We help you collect reviews on any review site that you want to collect reviews on, including Facebook, Google and more! You can also collect white-label reviews branded as your business, and your customers don't even have to login to leave their feedback! To read about how powerful white-label reviews can be, look at this video review about our work for Timpson Group across their 2,100 locations.
Can Trustist help me to collect Google Reviews? 
You can use your unique Trustist review collection link to ask customers to leave you a Google review.
If they don't have their Google login details available, they can leave you a white-label review without needing to login. This means that you can ensure that you are not missing out on any opportunities to collect great reviews! When someone leaves you a white-label review, they are then sent an email asking them to leave their feedback on Google too.
You can also prioritise your review screen to have Google as the first review site that your customers see when leaving you a review. If you'd like us to make this change, just let us know!
Is there a benefit to collecting Trustist reviews?
When you collect Trustist reviews the markup that gets sent back to your website pages will tell Google to display stars in your organic Google search results. This markup will tell also Google lots of other important information about where you are and who you service to help with your organic Google ranking and both your click-through rate and number of clicks will improve.
Is it possible to filter reviews for different parts of my business?
Your reviews will already be location/branch specific, but if you would like to specify the service the review applies to you can use tags within your account. These tags can then be used to display specific reviews on certain pages of your website. Just let us know if you'd like some code to display specific tagged reviews somewhere on your website!
Can I respond to reviews?
In your Trustist account, you can respond to any Trustist and Google reviews that you receive. These responses are displayed publicly with your reviews on your website, on our website, and on Google. A 2019 study found that if you respond to just 32% of your reviews, you will get an 80% higher conversion rate than if you only respond to 10% of your reviews, who doesn't want 80% more customers and sales? 
Can Trustist help me with social media?
Through Trustist, you can use your reviews to keep your social media pages up to date. When you switch on Auto Post in your account, any 4 or 5-star reviews that you collect will be automatically shared to Facebook, Twitter and Google as posts.
Can I get stars for homepages?
 Unfortunately, Google does not allow any websites to get stars against homepages in organic Google search results. However, as the code is added to every other page of your site, those pages will be able to display stars in your organic Google search results. It is these pages which, once they have stars, will start to attract more traffic, and that's where the increase in clicks occurs. At the same time, because your Page Authorities will increase through those clicks, so too will your Domain Authority which should help your homepage rank better too.
How do I connect Facebook and Twitter to my Trustist account?
 When you click on the Facebook and Twitter logos in your Trustist account, you will be taken through the steps to successfully connect these platforms to your Trustist account.
If you'd like a resource to guide you through this process, you can read it here.
Can Trustist delete my negative reviews?
 We understand that to have a bad review isn't desirable and therefore it's only natural for a business owner to want that post removed. Although we help you to manage your reviews, we can't just take a single one down because it's negative. What we can do, is give you advice on how to respond.
If a Trustist review is proven to be false, we can remove them from your account, but if the review was initially posted onto Google or another external platform it cannot be removed. We can, however, help with the process of handling the reviews that come into your account – both the positive and negative ones!
Moreover, having a 4.9/5.0 rating in Google delivers the highest conversion rate to web-traffic, even more than 5.0/5.0, so don't worry if you don't have a perfect rating!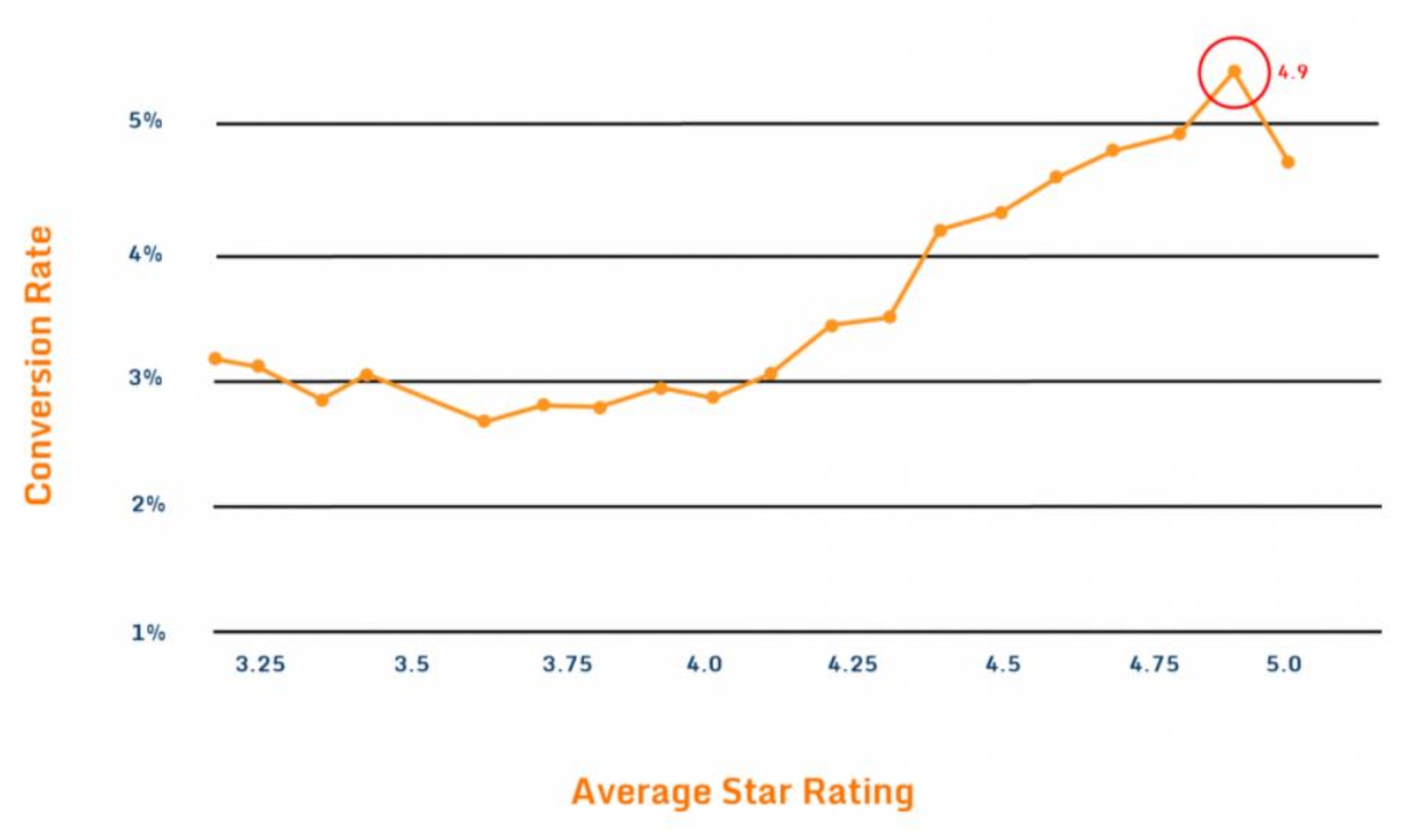 This study was carried out and proven by SearchEngine Land.