Here at Trustist, we work with a wide variety of businesses – many of which are in the franchise sector. As a result, we've created a specific version of the Trustist Reviewer platform that could be utilised by franchisors to sell more franchises.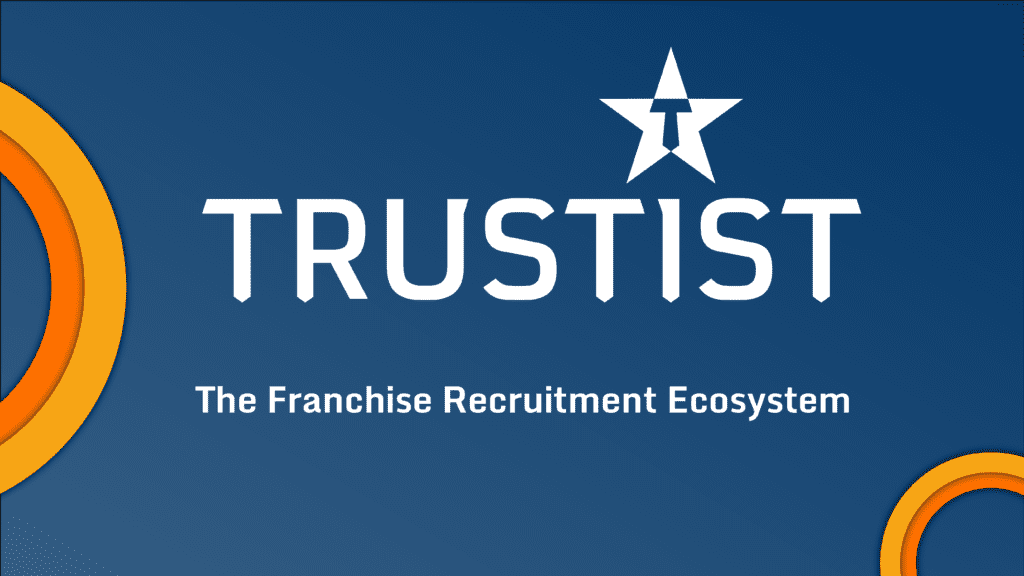 This is done by using the best tools at their disposal – shining endorsements from existing franchisees!
By collecting reviews from their existing franchisees and displaying them on the relevant pages of their website, franchisors can attract new franchisees by showing them how happy their current franchisees are! This is a sure-fire way to amplify the benefits of buying a business from you.l
However, this isn't the only way to get the most out of your franchise recruitment efforts!
Create a Separate Domain or Subdomain for Franchise Recruitment
One of the biggest issues for franchisors is ensuring that prospective franchisees can find their franchise offerings organically in Google. The most obvious method for this is creating a dedicated franchise recruitment website or subdomain.
However, what we see all the time is the addition of a sub-directory for franchise recruitment on a franchisor's website that is trying to, at the same time, promote their products and services. Whilst it may be the simplest option for getting the offering set up, it can dilute the amount of traffic you're receiving.
This is because your service or product-based pages, and the rest of your website, will be optimised for the search terms your customers are using – which is absolutely correct. Nonetheless, this is not correct for your franchise offering as you're not trying to appeal to the same audience, and you will, therefore, need to optimise the pages for different search terms entirely. Having the separate domain or subdomain allows you to focus the optimisation, and by extension the traffic, to only the most relevant users.
You can also display more content tailored to prospective franchisees and make the most out of the space a separate domain, or subdomain, gives you to increase the chances of catching a user's attention!
Franchise Territory Pages
Having pages on your website for all territories you serve (including those currently managed by a franchisee and the available territories) is a great way to maximise the reach of your franchise recruitment website or subdomain.
Location-based searches can be a vital source of new franchisees finding their way onto the website, because if someone is looking to buy a franchise, they're likely to search for availability in their area. This gives you a chance to optimise individual pages to the specific offering in that local area, and ensure the user has all of the information they could possibly need in order to capture their interest and their business.
Having pages for the territories you operate in already is also great as this gives you a space to display how happy your current franchisees are and how well they're doing, whilst also covering even more locations.
Google My Business for Franchise Recruitment
Another great opportunity that you can access entirely for free is Google My Business (GMB)!
Creating a GMB page for franchise recruitment allows you to take up even more space in Google, which means you are increasing the chances of a prospective franchisee finding you! You can also show off how much your existing franchisees like owning a franchise by collecting Google reviews from them.
The listing should be as complete as possible, including your business name, contact details, opening hours and any pictures you may have. To ensure you are getting the most out of your Google My Business listing please take a look at this article.
When prospective franchisees find your listing, it is also important to make sure they are taken through to the correct place. For this reason, you should make sure the 'website' button on your Google My Business listing links straight through to your franchise website or subdomain.
Google My Business – Franchise for Sale or Business for Sale?

When naming your Google My Business listing, it's important to ensure the three key pieces of information are included:
Business name
Location (this can be as general as UK or other areas you cover)
Service
From the above list, it's point number three that is the most important for franchise recruitment GMB listings. Including the service your franchisees provide is important! After all, your prospective franchisees need to know which sector they'll be working in!
However, something a lot of franchisors don't realise is the need to include something specific about franchise recruitment in the title. This is mainly to ensure that prospective franchisees know that they're about to enquire about buying a business from you.
Interestingly, many people don't know what a franchise is, but they do know what a business is. You can see from Google Trends that loads more people search to "buy a business" than they do to "buy a franchise."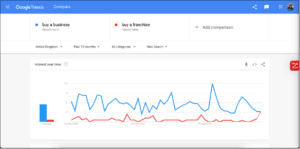 As such, it's worth optimising a page on your franchise domain or subdomain around the opportunity to buy a business from you. People often know that they want to buy a business, but not that they want to buy a franchise!
Collecting Reviews from Franchisees
Through a Trustist franchise recruitment account, there are multiple different methods that can be used to collect reviews from your franchisees. You are also able to collect reviews from any review source you have a listing on, and they will all be brought into your Trustist account.
Reviews can be collected via email, text, social media, or however you usually communicate with your franchisees. You can also use your Trustist QR code to collect reviews from your franchisees face-to-face, which is particularly useful at conferences or other events.
The reviews you collect are then automatically brought into your Trustist account, where you can monitor your entire online reputation in one place. There are also other features available within your account that allow you to get more out of your reviews, such as responding to them and sharing them across your social media accounts.
We can then supply you with some small pieces of code for your franchise recruitment website, which displays a widget on each page that updates in real-time and allows you to get stars in natural search results! The stars in natural search results help your listings to stand out from any competition, which leads to an increase in traffic through to your website/subdomain from natural search results.
The widget on your site, generated by the Trustist code, shows the overall review count and rating score of your reviews from all review sources, and when clicked takes the user through to view the full list of your reviews (without taking them away from your site).
Having the reviews on your website increases the amount of time users are likely to spend on the pages, which increases the chances of them getting in touch even more and helps you rank higher in Google!