To kick this week off, we thought we'd look at a few fun facts about reviews! They might be useful for you to take into consideration when managing your online reputation and customer reviews.
General Statistics
Did you know…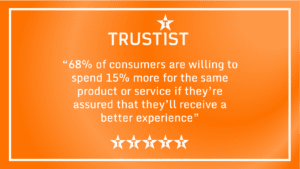 68% of consumers are willing to spend 15% more for the same product or service if they're assured that they'll receive a better experience
Positive reviews make 73% of consumers trust a business more
Displaying reviews can increase conversion rates by 270%
People read an average of 10 reviews before making a decision
40% of consumers only take into account reviews written in the past two weeks
57% of consumers need at least a 4-star rating before they choose to use a business
Whilst 90% of people have heard of fake reviews, only 60% are actually concerned about them
Google and Facebook have become No1 and No2 for online reviews – 63% say that they will check online reviews on Google before visiting a business
Age
You may not have thought about this, but someone's age can play a huge roll in how, where and if someone leaves a review, as well as their reading habits when looking for a product/service. For example: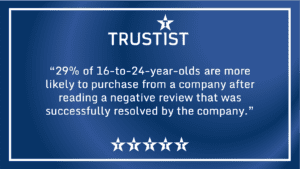 29% of 16-to-24-year-olds are more likely to purchase from a company after reading a negative review that was successfully resolved by the company
61% of people aged over 55 want businesses to be rated 4-stars and above compared to 52% of 18-34-year-olds
80% of 18-30-year-olds have written online reviews, compared to only 41% of over 55-year-olds
44% of 16- to 24-year-olds stated they would spend at least 25% more money with a business that they'd read a positive online review about
The older a consumer is more likely to leave a positive review, rather than a negative one
The most vocal age group when it comes to customer reviews is 16–24-year-olds – 66.70% of which have written an online review
The second most prolific reviewers are over 61.40% of which have written an online review
The 16–24 age group isalso the most likely to write a negative review to ensure that "other people don't get burned"
Gender
If age affects the way consumers read and write reviews, then surely gender does too, right?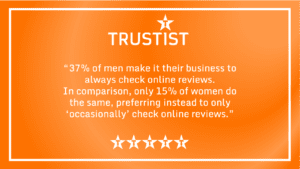 37% of men make it their business to always check online reviews
In comparison, only 15% of women do the same, preferring instead to only 'occasionally' check online reviews
37% of men always read a business' response to their customer reviews
Men (58%) feel as though responding to positive reviews are more important
63% of women believe that negative reviews require a response from the business
44% of women have never been asked to leave an online for a business
To follow, 37% of those women not asked for reviews present a missed opportunity, as that's the proportion who are open to leaving business reviews
30% of men and women combined say fake reviews should also get responses
The Rest of the World
You may have done your research on review habits in the UK, but what about everywhere else?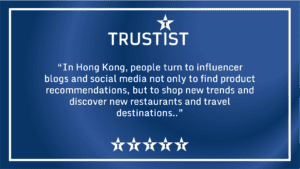 Here are 8 countries that love to write reviews!
China – The younger generation in China is far more likely to leave an online review. Figures from AnalySys reveal that 89% of Chinese consumers who were born in 1990 or later will share their online purchase experience.
Japan – KPMG's 2017 Global Online Consumer Report revealed that the Japanese are among the top nations who rely on online reviews when making online purchase decisions, but they were also less likely to post reviews online.
India – Video is an extremely popular medium in India for reviewing products. Over 55% of shoppers actually watch video reviews while physically shopping in-store!
USA – Online reviews are popular with people in the US across various demographics. According to Adweek, as many as 61% of consumers in the United States read product reviews online before they make any purchase.
Italy – Digital consumers in Italy are extremely likely to pay attention to online reviews and savings opportunities with Bilendi data revealing more than 93% of Italians read buying guides or tests, while reviews and opinions are read by 90% of Italian consumers.
Australia – Aussies also love to read reviews before making a purchase. A 2018 social media report by Sensis found that 68% of Australians read blogs or online reviews before making a purchase, with those aged between 30 and 39 more likely to do so. Australians read an average of 8 reviews before they make a decision.
Mexico – Mexicans say that they are influenced by social networks when they are making online purchases, which is their first port of call when researching potential purchases.
France – French internet users are among the most likely in the world to base their decision to eat at a restaurant on online reviews, with a TripAdvisor survey finding 90% of the French are influenced this way.
Sources:
https://visual.ly/community/Infographics/business/do-different-age-groups-use-online-reviews-differently
https://www.igniyte.co.uk/blog/30-online-review-facts-and-stats/
https://www.b2bmarketing.net/en-gb/resources/blog/do-different-age-groups-use-online-reviews-differently