We help businesses, with our four step approach and stars in Google organic search results, generate new sales – often in excess of 50%. Here is what Kevin Martin, Online Director at Timpson Group, had to say in a recent review about how Trustist help Timpson Group.
"Trustist provide the Timpson Group with a superb reviews platform that gives us so many benefits from insights to help improve our customer service through to improved SEO and increased footfall. Highly recommend."
This can all be done for your business as well, in these four simple steps:
Step One – Aggregation of Local Reviews
We will aggregate your reviews from every review site to save you time monitoring your online reputation. You will be able to see in a snapshot what your online reputation is!

Unlike other review sites, we employ two tiers of aggregation. Firstly, we will aggregate reviews on a location-by-location basis to improve local sales. Secondly, we will do this for your brand to make sure that everyone notices you before your competition!

On each of your location pages we will give you some code which reflects your local reviews for that location specifically. Additionally, we will provide you with some more code which goes on all of your other pages which shows your total online reputation. This will save you lots of time managing your reputation and reviews in lots of different places.
Step Two – Stars in Google Organic Search Results
You will make more sales because we get you stars in your Google organic search results!
Google Organic Search Results
When someone local to you is searching for your services we will ensure that you appear with stars in your organic Google search results which drives extra traffic to your website and increases your sales opportunities.
Typically, you should expect a 50-200% increase in web traffic just by having stars in your organic Google search results.
Google Maps Results
We also encourage the collection of Google reviews through the Trustist platform to help you get stars in Google Maps and improve your Google rankings.
Some of our clients have seen a 1000% increase in clicks to their website from Google Maps!
Step Three – Review Collection
Your online reputation will improve by using Trustist. We guarantee it!

We give you a white-label platform to easily collect reviews. This means you will be collecting your own branded reviews as well as reviews on other important websites including Google, Facebook and any others of your choosing.

You will have bespoke review links for each of your locations and your brand to send out to customers in text messages or emails. You will also have a QR code for each of your locations and your brand so that you can easily collect contactless reviews from your customers. 

Here's an example one of clients' white-label review screen.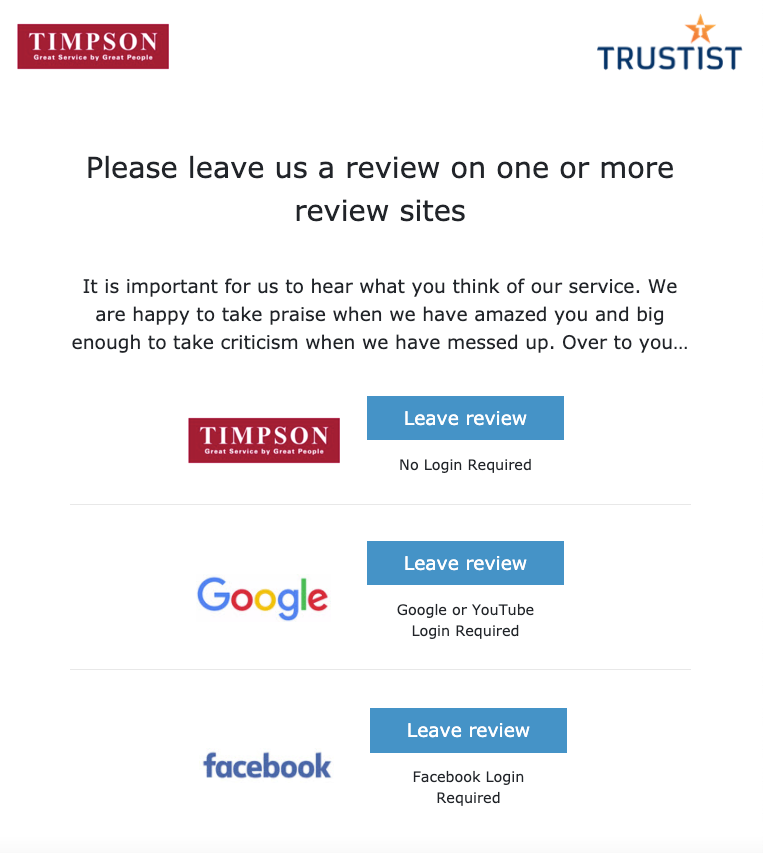 Your amazing reviews will automatically be shared to your favourite social media platforms!

We have integrations with Google, Facebook and Twitter to automatically share your 4 and 5-star reviews from every review site.

If a potential customer finds you on social media before they find your website, we will make sure that they are reading your best reviews.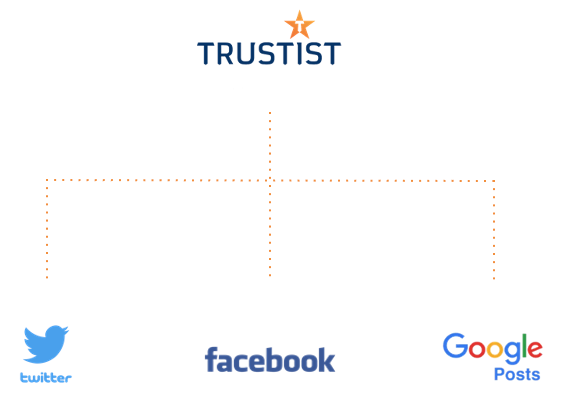 "Best return on investment of any marketing platform that we use, highly recommended, easy to get hold of the team."
"Since joining TRUSTist, I have seen at least a 10-20% pickup in business which I think is a phenomenal achievement."
"We have experienced substantial growth in part because of the quantity and quality of our Trustist reviews. Thank you Trustist!"
Reputations are built on happy customers
Learn what Trustist can do for your business