Did you know that Trustist offers window stickers? No? Well, now you do!
We've found that window stickers are an excellent way to visually demonstrate your star rating, just as Bradleys Estate Agents are doing in the photo below.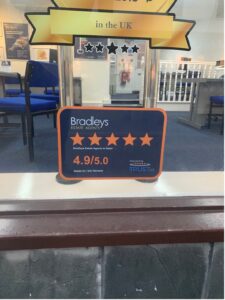 Trustist window stickers are a great way to display your overall online rating to passing customers and potential customers – bringing the online virtual world into the physical world. It's also an effective way to encourage and increase footfall in your local stores, which will then lead to more business.
Not only that, but they're also a handy reminder to customers who said they'd leave you a review but who have yet to do so!  A fabulous memory jogger and awareness raising piece all in one!
Which Businesses do Window Stickers Work for?
Window stickers work for any business where customers can come to visit you. Whether you offer swimming lessons at a local pool, sell and rent properties, repair shoes and watches, sell clothing, or even websites, brand visibility is everything. Whenever someone walks past your retail premises or your office space, if they can see how highly rated you are, they'll remember you, they'll use your business and they'll refer you!
To find out more about online reviews, online review strategy and window stickers, contact us here.