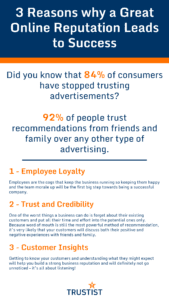 If a company doesn't have a very good reputation, potential customers will look for a more trusted brand elsewhere – almost like it's instinct!
Did you know that 84% of consumers have stopped trusting advertisements? Ad and marketing claims have slowly become less trustworthy now that the power of the internet has granted the people with the power to research companies by customer service, cost and even quality in just a few short clicks.
Although this might not sound great, it's not the end of the world as this now makes your reviews as important as ever! Consumers now rely on reviews more than anything, in fact, 92% of people trust recommendations from friends and family over any other type of advertising. Beyond friends and family, 88% of people trust online reviews written by other consumers as much as they trust recommendations from personal contacts.
Employee Loyalty
Employees are the cogs that keep the business running so keeping them happy and the team morale up will be the first big step towards being a successful company.
Those looking for a job will most likely do some research on the company on sites such as Glassdoor before applying. It's easy to forget that your business' reputation doesn't just influence potential customers, but also future and even current staff members.
By making sure that your business has something as simple as a reputation strategy can be so effective. You're not just ensuring that consumers like you, but you're also making sure that your employees do too.
Trust and Credibility
One of the worst things a business can do is forget about their existing customers and put all their time and effort into the potential ones only.
Because word of mouth is still the most powerful method of recommendation, it's very likely that your customers will discuss both their positive and negative experiences with friends and family. Gossip travels fast, and with access to something as powerful as the internet, information and opinions will forever be readily available – accurate or not.
A tactic to help manage your online reputation is to manage how consumers are discussing your business. Now, this doesn't mean we're advising you to control what they say or who gets to leave feedback; this is illegal. With Trustist, you get your own bespoke review link that will have every review source you utilise ready for your customers. Here, they can choose which review source to leave feedback on without the hassle of searching you up and looking through pages and pages of search results. Another beauty of the Trustist platform is that we're a closed review platform. This means that the option to leave a review isn't open to the public, only your real customers that you will send the link to. This reduces the risk of there being a fake review left to you and increases the trust that potential customers will have in your company knowing that all your reviews have been left by genuine customers.
Online reviews have become the best and most efficient tool for companies to build their reputation as 88% of consumers have fallen into the habit of looking at reviews before making a purchase. Reviews have become one of the most important parts of the internet as they can influence potential consumers positively by building and earning trust throughout their buying journey.
Customer Insights
Managing your reputation doesn't just stop with how consumers see you. If your strategies are implemented in the right way, the way that you manage your reputation will also allow you to learn from your customers and improve and develop on the feedback that they give you. By putting more focus into your customers, you give yourself the ability to tailor your business to your customers based off reoccurring patterns and buying habits that you might notice.
Getting to know your customers and understanding what they might expect will help you build a strong business reputation and will definitely not go unnoticed – it's all about listening!
Interacting with customers when they've left you some feedback can also turn a negative into a positive. By responding to frustrated or unsatisfied customers you're demonstrating that your business truly cares about their experience and is wanting to take the time to address and possibly solve the customer's problem. 76% of consumers have said that they view customer service as the true test as to whether a business honestly cares and values them. With this in mind, it's fair to say that it's essential for businesses to listen to their customers and try their hardest to have the best reputation out there.